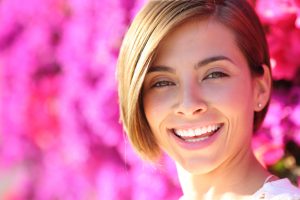 Did you know that your smile can help you reach your goals for 2017? Your teeth may not seem to be a big deal, but a healthy, beautiful smile can give you the confidence you need to achieve your personal and professional goals. Cosmetic dentistry offers a number of options for enhancing your smile no matter what condition your teeth are in now. Your cosmetic dentist in Los Fresnos can brighten your smile for the New Year.
Teeth Whitening
Perhaps your teeth just need a boost? Whitening your teeth is a quick and cost effective way to make a huge impact on your smile. Los Fresnos Dental Center offers two options for whitening that are convenient and efficient. Our in-office whitening procedure is ideal for those seeking fast results, and in less than an hour, you'll leave our office with teeth that are 6-10 shades lighter.
Take-home whitening trays are a great choice for those who would like the freedom to whiten at their own pace and update whenever they like. We'll create custom fitting trays and supply you with a high strength whitening gel. We'll show you how to safely use the gel, and within two weeks you'll enjoy results. You'll have your trays at home to use to brighten your smile before that next big vacation or event.
Porcelain Veneers
Have you ever admired an actor's smile such as Demi Moore or Hilary Duff? Did you know that their teeth were enhanced using porcelain veneers, and our doctors can provide that same service to you? Dental veneers can completely change the appearance of your smile and they're ideal for addressing a number of issues such as:
Misshapen teeth
Discoloration and staining
Size discrepancies
Small chips and fractures
Gaps and spacing between teeth
Misaligned teeth
Excessive wear
Our doctors will customize veneers to improve your smile and bond them directly to your teeth, as they're a thin layer of porcelain designed to fit over your natural teeth. They're stain resistant, which means you won't have to worry about whitening your teeth. Veneers are easy to care for, as you'll be able to brush and floss like normal. They're also very durable, offering great longevity with the right home care, and can potentially last for 10-15 years.
Contact Los Fresnos Dental Center
If you're ready to claim your best smile for 2017, give our office a call today to schedule a consultation with our doctors and learn what's possible for your smile.